2013 Kimberly Merlot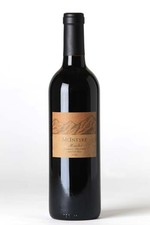 Wine Specs
Harvest Date
September 2013
Vineyard
While Monterey County is not readily known for Bordeaux varieties, the unusual climatic and geological conditions at our estate Kimberly Vineyard make it an intriguing site for Merlot. The property is located at the mouth of the Arroyo Seco canyon, just out of reach of the intense Salinas Valley winds. This protected micro climate is warmer than the surrounding terrain allowing us to fully ripen this noble variety. The 18-year-old vines are thinned to one cluster per shoot immediately after bloom to maximize the amount of flavor, structure and aroma precursors. Intense farming practices and low yields produce a wine that delivers incredible balance and complexity.
Winemaking
At McIntyre our winemaking style is minimalistic. We endeavor to let the essence of the fruit shine through with limited intervention. For maximum extraction and character we cold soaked the fruit for 5 days prior to fermentation in small, half-ton bins. Human intervention was limited to twice- daily pumpovers and the occasional punch down. Once it went into barrels the wine was not racked until just prior to bottling. Only 340 cases were produced.
Wine Specs
Harvest Date
September 2013
Wine Profile
Tasting Notes
The 2013 growing season was nearly perfect. Consequently, this Merlot is one of the finest we have ever produced. The core is deep, rich, juicy and packed with fruit. Highlights include blackberry, cassis, licorice, dried herbs and lavender. The palate is dense, but extremely well structured thanks to firm acids and fine-grained tannins. While it drinks beautifully now, this Merlot should expand and evolve over the next 5-10 years.