2016 Rosé of Pinot Noir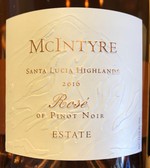 Wine Specs
Appellation
Santa Lucia Highlands
Vineyard Designation
McIntyre Estate
Harvest Date
September 2016
Bottling Date
February 2017
While it is never easy to compensate for Mother Nature's vicissitudes, this wine was undoubtedly enhanced by the work we did in the vineyard. The vines for this rosé are now 45 years old, own rooted and grown on a Lyre trellis system. The crop was thinned to encourage even ripening and more concentrated fruit flavors. North/south row orientation ensured even sun exposure from dawn to sunset.
Wine Specs
Appellation
Santa Lucia Highlands
Vineyard Designation
McIntyre Estate
Harvest Date
September 2016
Bottling Date
February 2017
Wine Profile
Tasting Notes
Not all rosés are created equal. Many of today's bottlings are in fact leftovers from the red winemaking process (saignée). At McIntyre, we take our rosé damn seriously. As in previous vintages, our 2016 was consciously farmed, harvested, vinified and bottled with one thought in mind: let's make the ultimate rosé. Lightly colored, it is fresh and vibrant with notes of white peaches, orange blossom and sandalwood. The palate is rich, crisp and highly structured. Delicious stuff!
Product Reviews
Paul Compton
(May 11, 2017 at 9:36 AM)
As good as it gets for Rose. Lovely delicate fruit and appropriate acidity to make it a great food wine. Spectacular color!