News, Articles & Blog

By Russ Winton - rgwinton@yahoo.com
10/07/2014 12:00 AM UPDATED:10/06/2014 2:52 PM
One of the most common mistakes people make when tasting wine is to confuse the fruitiness of a wine with sweetness. Sweetness in wine means only one thing; the amount of sugar left in the juice after the fermentation stops. It is referred to as residual sugar or R.S. When tasting wine, your tongue really can only taste sweet (sugar), sour (acids) and bitter (tannins). Fruitiness is the tendency of wine to taste and smell of fruit. When the fruit is sweet, like cherries or plums, tasters often mistake the fruitiness for sweetness.
The easiest way to tell if a wine is sweet or fruity is to eliminate the sense of smell. Fruit flavors are mostly aromatic, in other words you smell them much more than you taste them. Sugar is felt on the tip of the tongue. So if you smell a wine and it smells sweet and you taste a wine and it tastes sweet, pinch your nose and taste it again. A sweet wine will still taste sweet while a dry fruity wine's sweet characteristics will be gone.
Confused? OK, let me simplify. Pinch your nose and taste. Is it sweet? Then it's a sweet wine with R.S. Pinch again, if you don't taste sweet, then it's a dry wine and what you thought was sweet was just that fruit thing messing with your mind.
Crossroads tastings
The Rio Grill in the Crossroads Shopping Center in Carmel has been one of our favorite restaurants for many years. Great food (killer onion rings) and half-priced wines on Mondays have kept us going back. In 2007 Taste Morgan opened, featuring a large, comfortable tasting room with a friendly staff. Turlock native and owner, Dan Lee, features excellent wines from the Santa Lucia Highlands and Morgan's own organically farmed Double L Vineyard. This year, two other tasting rooms have moved into the center.
Southern Latitudes Wines sells exclusively the wines of Australia, New Zealand, South Africa, Argentina and Chile. If you're not familiar with these wines this is the place you want to visit. They have daily tastings and can turn you on to some very interesting wines. The third tasting room, soon to open, is McIntyre Vineyards. Owner Steve McIntyre produces some of the best Santa Lucia Highlands chardonnay and pinot noir in the region. The McIntyre site is just across the street from Taste Morgan and a few hundred feet from Southern Latitudes Wines.
What's on our table
Three wines, all under $12, graced our table this week; the 2013 Hanna Sauvignon Blanc, the 2012 McManis Syrah and the 2012 McManis Jamie Lynn Vineyards Barbera. We'd like to invite them back again. Cheers!

Thanks to Mike Hale, The Grub Hunter for the Herald, the Hyatt Highlands Winemakers dinner series featuring McIntyre Vineyards has taken a front row seat in the news! Click here for the link to the full online article to read on the bites and wine offered. Grab your tickets promptly or call 831-622-5445 to make a reservation as the dinner takes place Thursday, January 16th inside the Hyatt Carmel Highlands wine room. The tickets can be purchased here. This is a great opportunity to meet Steve McIntyre, awarded the 2013 Grower of the Year by the California Association of Winegrape Growers, his family and friends while eating a delicious menu created by Chef Matt Bolton. Start your 2014 year by completing a spectacular item off your bucket list or fulfill a New Years resolution with the ones you adore.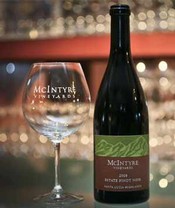 "It is hard to imagine a more prestigious or beautiful place to hold a winemaker dinner in Monterey. Between the food, the view and the wine the evening should be spectacular," McIntyre said.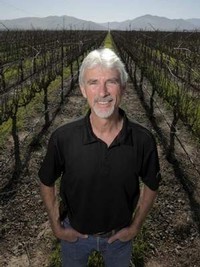 Monterey County's Santa Lucia Highlands garnered the gold this week in the lead-up wine competition to this weekend's annual Salinas Valley Food & Wine Festival.
Four of the five gold medal winners of this year's festival Wine Competition hail from the Santa Lucia Highlands – an American Viticultural Area, or appellation, in the western foothills of the Salinas Valley that begins north of Gonzales and runs south to Soledad.
[Steve-Sustainable article Californian] Another way to describe the Highlands is to drive to River Road in Salinas, head south for 15 minutes and then look for all the vineyard signs. The appellation is home to some of the biggest names in Monterey County wines, including McIntyre Vineyards, which garnered two gold medals for its McIntyre 2012 Santa Lucia Highlands Chardonnay and its McIntyre 2011 Santa Lucia Highlands Block Chardonnay.
Other familiar names, including Hahn, Talbott and Paraiso, grow in the Highlands.
Other Highlands vintages awarded gold was J Lohr's 2011 Highlands Bench Pinot Noir and the Joyce 2012 Tondre Grapefield Riesling. The only wine to earn a gold outside of the Highlands was La Rochelle's 2012 Pinot Munier from the Russian River Valley.
Silver and bronze medal winners kept the Highlands in the red, with McIntyre's 2012 Pinot Noir, Estancia's 2011 Bianchi Bench Pinot Noir and its 2011 Stonewall Pinot Noir, Paraiso's Pinot Noir, and Tudor's 2010 Pinot Noir.
The Arroyo Seco AVA, located adjacent to the Highlands to the south, generated five more silver and gold medals from McIntyre, Tudor and Mercy vineyards.
The judges were Wendy Heilmann, director of wine & spirits at Pebble Beach Resorts; Thomas Perez, founding winemaker of Kristi-Lynn Wine Group; Dave Eriksen, wine buyer at Carmel Valley Ranch; Dave Kristianson, Monterey Peninsula sommelier; and Matthew Peterson, sommelier at Post Ranch Inn in Big Sur.
The awards will generate immediate marketing opportunities for the vineyards, with the winners being showcased at Saturday's Oldtown Salinas festival, as well as a "Sommelier to Sommelier" letter that will be sent out to over 100 of the top wine-selling restaurants in Monterey County.
The Wine & Food Festival in Salinas is organized by some two dozen directors and more than 150 volunteers.
The event is free to the public, but those wanting to taste wines need to purchase a wristband good for unlimited tasting for $35 in advance and $45 the day of the festival. VIP tickets giving attendees access to a VIP Lounge are $85 in advance and $100 at the door. Artwork and other vendors will also be on hand.
For more information on the festival, visit www.salinasvalleyfoodandwine.com .
Dennis L. Taylor writes about Monterey County agriculture for The Salinas Californian. Follow him on Twitter @taylor_salnews.

Connoisseur's Guide to California Wines has just published a roundup of Chardonnays, and McIntyre's 2011 Estate SLH scored a whopping 91 points! They praised it for its great style and polish, and energetic fruit. We couldn't agree more, and hope you will take advantage of this fabulous summer-rific wine, before it's sold out!
MCINTYRE Estate Chardonnay, Santa Lucia Highlands 2011 - $28.00
Wonderfully well-measured in richness with lots of deep and energetic fruit comfortably married to very complementary oak, McIntyre's Estate Chardonnay is a keenly composed wine that shows great style and polish. It has fine palatal weight and is supple in feel with neatly placed acidity lending brightness and length. It is downright delicious now but will only grow better with age, and it we expect it to drink well on the strength of its balance for a good five or six years.

Another respected voice has weighed in on the current releases of McIntyre wines: Food & Beverage World had high praises and high scores for the 2011 Chardonnay, 2010 Block 3 Pinot and the 2011 Kimberly Vineyard Merlot!
These wines scored 90 pts or better in their annual Best of California wine competition, putting them in the top three wines chosen by a panel of consumers in their respective categories.
Noteworthy wines, indeed!
Click Here to read the full article.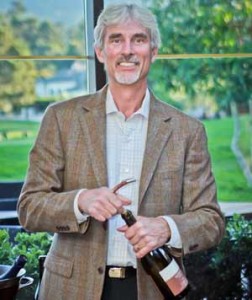 Congratulations to Steve McIntyre on being awarded Grower of the Year by the California Association of Winegrape Growers. Click here to see the press release. Grower_of_the_Year