2015 Rose of Pinot Noir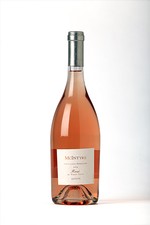 Wine Specs
Appellation
Santa Lucia Highlands
Harvest Date
September 2015
Bottling Date
January 2016
SOLD OUT. Our 2016 vintage will be released in April 2017.
Vineyard
While it is never easy to compensate for Mother Nature's peculiarities, this wine is undoubtedly enhanced by the work we did in the vineyard. The vines for this Rose are now 44 years old, own rooted and grown on a Lyre trellis system. The crop was thinned to encourage even ripening and more concentrated fruit flavors. North/south row orientation ensures even sun exposure from dawn to sunset.
Winemaking
At McIntyre our winemaking techniques are minimalistic. We endeavor to let the beautiful fruit shine through with limited intervention. The grapes for this Rose were harvested and hand-sorted in the early morning hours. Primary and malolactic fermentations were carried out with the wild, indigenous yeast and malolactic bacteria that naturally thrive in the vineyard.
Wine Specs
Appellation
Santa Lucia Highlands
Harvest Date
September 2015
Bottling Date
January 2016
Wine Profile
Tasting Notes
If this rose were a poem, it would be a limerick, rather than an epic tome. The goal here is fun and easy, not dense and solemn. Fresh, crisp and raucous, it exudes a cavalcade of fresh blueberry, cherry, watermelon, rhubarb and currant. On its own or served with fowl or fish – we highly recommend it with fresh salmon – our 2015 Rose of Pinot Noir is one of the most pleasurable wines you will ever taste.
Product Reviews
Linda Kaufman
(Jul 19, 2016 at 8:05 AM)
We are not usually Rose drinkers but really enjoyed this wine
Karen Yip
(Feb 25, 2017 at 12:13 PM)
My new fav rose. Fun place to taste and great wines. This is my fav.