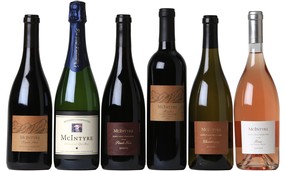 Welcome to McIntyre Family Wines
Click Here to reserve your experience (strongly recommended).
The McIntyre Estate Vineyard lies in the "sweet spot" of Monterey County's Santa Lucia Highlands AVA, a 12-mile stretch of benchland renowned for producing wines of character and complexity. Originally planted in 1973, the 80-acre site (60 acres planted) boasts some of the Highlands' oldest Pinot Noir and Chardonnay vines. The winery's other estate property is the 81-acre Kimberly Vineyard in Arroyo Seco. Proprietor Steve McIntyre is one of the most knowledgeable viticulturists in California. As owner/operator of Monterey Pacific, he farms 16,000 acres in Monterey County. The McIntyre Estate Vineyard was among the first properties in the Santa Lucia Highlands to be SIP (Sustainability In Practice) Certified.