January 5, 2021 | McIntyre Family Wines
à votre santé!
McIntyre Vineyards 2015 Merlot, Kimberly Vineyards, Arroyo Seco AVA; Santa Rosa, CA.
14%ABV, SRP $25/bottle on release.
Color is deep garnet center with ruby edging. The nose offers brooding black fruit, tobacco leaf, forest floor, and star anise. On the palate is a pleasing mixture of blackberry, plum, and black currants, with tertiary notes of mocha, cedar box, pencil shavings, and spiced vanilla.
The complexity of this wine might surprise you. It reminded me first, of how hauntingly beautiful and decadent merlot can be, and secondly, and that my cellar is lacking in high-quality, single vineyard merlot!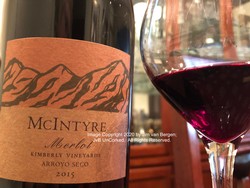 Many winemakers spend their time on Merlot's sibling- the OTHER child grape of Cabernet Franc: the often highly-priced Cabernet Sauvignon, which are the bodybuilders of the wine world. Too many winemakers ignore Merlot, who, like Meryl Streep and Dustin Hoffman, will delight and amaze with their subtle performances time and time again, with chameleon-like skill to adapt to roles so that the publiccould not imagine another actor in that role. That is the beauty of Merlot, and that is what you can expect from this bottle: maturity, depth, complexity, and elegance.
I paired this impressive bottle over the course of a week with various dishes: potted steak and root vegetables; a second night with pasta with broccoli and garlic sauce; a third evening with baked salmon, greens and sweet potato. The wine maintained the complex nose, dark flavor palette, structure, tannins, and acidity beautifully over the duration.
Do not let the price fool you, this is a beautiful wine that demonstrates the immense care and skill taken with vineyard and viticulture, as well as a controlled, specifically minimalistic winemaking process to allow the grape to show brilliance and its finest characteristics. This wine could easily sell at twice the price.
Winemaker Steve McIntyre continues to demonstrate how passionate winemakers can offer mature, top level, lip-smacking wines at a tremendous value to the general public with wines of such a high level of care and craftsmanship, while maintaining sustainability to the soul of the Santa Lucia Highlands and Salinas Valley. Bravo!
What's In YOUR glass?
#mcintyrewines #arroyoseco #merlot #review #wine
Comments
Commenting has been turned off.