October 20, 2020 | McIntyre Family Wines
#MerlotMe Month - You had me at Merlot
McIntyre Per Ardua Kimberly Vineyards Red Blend 2016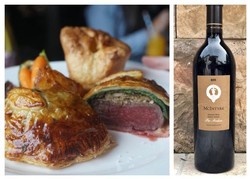 Per Ardua is the ancient Gallic motto for clan McIntyre. It means "Thru Difficulty," a sentiment that is as significant today in the Santa Lucia Highlands as it was two centuries ago for our ancestors in the Scottish Highlands. This is a wine with a lot of personalities. There arearomatic notes of cherry, tobacco and oak. McIntyre Per Ardua is a precisely structured wine with finesse and balance. This wine is a real treat and deserves an equally special dish like Beef Wellington.
What's So Special About Merlot?
Full Article Here Jill Barth (October 10, 2020)

Merlot has got some major vineyard acres under its belt. It is planted so widely that there's only one wine grape with more roots in the ground, and that's Cabernet Sauvignon.
According to Wine Business Monthly: "Merlot is grown all across the globe, including countries as diverse as Italy, Romania, Australia, Argentina, Bulgaria, Chile, Greece, Hungary, Mexico and South Africa. It is the second most-planted grape in Israel and can be found in Turkey, Croatia and Slovenia. In the United States, California and Washington have had the most success with the variety, but even Long Island, New York is having a successful go with it."
It's popular for good reason. It has the chops to adapt to a variety of climates and still retain an approachable, supple texture. It's a key element in Bordeaux, a cornerstone to the iconic blends there, with some estimates reporting that two-thirds of Merlot in the world is at home in France.
Merlot has sides. Climate expression, from cool to warm, brings out profile differences. The New World and Old World also treat this variety differently.
Comments
Commenting has been turned off.