July 18, 2019 | News & Articles | McIntyre Family Wines
JVB Uncorked reviews Rose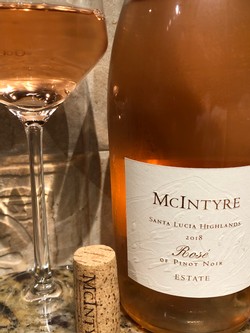 Color is a medium and warm coral pink. The nose is heavy with wildflowers, followed with a hint of rose bush and sage. In the mouth, superbly dry, delicate raspberry on the front palate while heat moves quickly across the top and back palate; the sides and back palate observe ripe cherry, young raspberry and yellow peach with a lovely tart finish that lingers, then wanes in the mouth. This wine paired beautifully with grilled chicken and asparagus, then again with rice and vegetables the following day, and again once more with a vegetarian black bean tostada. If you are looking for a well-made, sustainably-certified rosé of pinot noir, this may be your zenith; I certainly would pick it up again without hesitation.
If you are a fan of rosés that are made sustainably and simply, exhibiting beauty from minimal intervention and indigenous yeasts, you owe it to yourself to try McIntyre Rosé of Pinot Noir.
#WIYG?
à votre santé! (full article link is in picture)
Comments
Commenting has been turned off.