June 5, 2018 | News & Articles | McIntyre Family Wines
12 California Chardonnay I Liked [Bigger Than Your Head]
You may be thinking apropos the title of this post, "F.K., why didn't you just say '12 California Chardonnays'? Why add 'I liked'"? Because, Dear Reader, I don't like many chardonnays made in California, so when I come across a dozen that I can write about together, I want to emphasize that fact. The reason, as you probably know from having been a devoted reader of this blog — bless your little pointy heads! — is that so many chardonnays from The Golden State are saturated with swamps of oak that I open even one with trepidation, and when I'm looking for an appropriate white wine to drink with dinner, I will open just about anything other than chardonnay. It's a real crap-shoot, this whole chardonnay business. The wines reported on in this post age in French oak barrels for varying amounts of time and using various percentages of new barrels, but the important point is that all 12 achieve a state of balance among all elements, sometimes pushing the boundaries, it's true, but sometimes that bold, risky factor adds a frisson of appreciation. Other selections here are more elegant and restrained. Today we range from Santa Barbara County in the south to Mendocino County in the north. Vintages represented are 2014, '15 and '16, with the '14s really coming into a state of grace. These wines were samples for review, for which I thank the wineries and marketing people involved.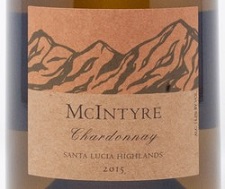 The pale straw-gold McIntyre Vineyard Chardonnay 2015, Santa Lucia Highlands, is a rich, bold chardonnay that ultimately displays itsbalance and integrity. A heady bouquet of lightly toasted pineapple and grapefruit offers notes of green apple and pear, cloves and allspice, camellia and lilac; it's a dense, vibrant and resonant chardonnay, obviously delivering a lot of personality, presence and flavor on the palate but restrained by a dry, crystalline edge of flint and chalk minerality. The finish brings in hints of dusty graphite, smoke and a touch of woodsy spice. 14.2 percent alcohol. Steve McIntyre made 840 cases. Drink now through 2021 to '24. Excellent. About $28.
[Posted by Fredric Koeppel, Bigger Thank Your Head blogger, http://biggerthanyourhead.net/2018/06/04/12-california-chardonnays-i-liked/]
Comments
Commenting has been turned off.