August 22, 2017 | News & Articles | McIntyre Family Wines
National Pinot Noir Day press!
By Gina Birch (USA Today & News Press.com)
"Last Friday was National Pinot Noir Day. All day and into the weekend I was teased and delighted by photos on social media of the delicious pinots friends and strangers were celebrating with.
Pinot noir is one of the most versatile food wines thanks to its acidity, fruit and medium to low tannins. Characteristic flavors include cranberry, cherry, raspberry, vanilla, mushroom, cola and wet earth, among others.
When considering these attributes it's easy to see how it could pair so well with such a wide variety of foods: salmon, duck, mushroom sauce, risotto, roasted vegetables, Gruyere cheese. At a table full of people with entrée choices spanning a wide range, pinot noir can make almost everyone happy.
A temperamental grape with thin skin, growers and wine makers often refer to it as the heartbreak grape. As with most things in life, not all pinot noirs are created equally, especially considering where the grapes are grown and who is making the wine.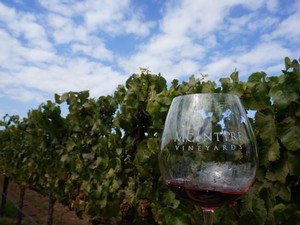 And unfortunately in most cases with this wine, you almost always get what you pay for.
Burgundy is the mother ship when it comes to pinot noir. It's the only red wine produced in this region of France. It's also the origin of almost all of the pinot vines planted in the U.S.
You may have tasted wines from other parts of the world and heard them described as Burgundian in style. Pinots from Burgundy tend to smell both earthy and floral, like violets. They have fresh red fruits, minerals, and most of all balance. Burgundies are considered graceful and they get more so the longer they're in the glass.
Oregon is on the same parallel as Burgundy, and Willamette Valley is one of the most highly regarded areas in the U.S. when it comes to pinot noir.
The wines produced here are typically light in color, tart, earthy and delicate in structure.
California pinots are darker and more fruit forward with dark fruits and vanilla. The state's growing conditions are warmer and drier than Willamette and Burgundy. For some of the best pinots in California look to Sonoma and the Santa Lucia Highlands in Monterey County. The areas get the cool air and fog that make these particular grapes happy.
For red wine lovers stifled by the Southwest Florida heat, pinot noir is perfect year round and even better with a little chill on it; a 65-degree range will do.
McIntyre Estate Pinot Noir, 2014 ($45)
From the Santa Lucia Highlands is a small production wine that has a mouthwatering blend of plum, blackberry and cherry, with lovely lingering spices on the finish."
Comments
Commenting has been turned off.