News, Articles & Blog

BY: Sasha Paulsen spaulsen@napanews.com Updated Oct 27, 2016 Read FULL ARTICLE HERE
"Wine tasting in Santa Lucia Highlands of Monterey County: Long-time vintner Steve McIntyre met us, a traveling group of wine writers, in his vineyard. He pulled up in his pick-up truck, jumped out, opened the tail gate and rummaged around for glasses to give us tastes of his McIntyre rose of pinot noir, chardonnay, and pinot noir....
...And he is also the owner of Monterey Pacific vineyard management company that farms 12,000 acres in Monterey County.
McIntyre has also been a pioneer in sustainability. A founding member of the Central Coast Vineyard Team, he was one of the originators of SIP—Sustainability In Practice—certification program. The McIntyre Estate Vineyard was among the first properties in the Santa Lucia Highlands to be SIP-certified. Sustainable wine grapegrowing, he said, "is part of a 'big picture' philosophy that takes into account fiscal, social and environmental issues. To earn a SIP certification, growers are evaluated on everything from human resource management to habitat conservation.
"'Green' is more than a catch phrase here," McIntyre said, adding that conscientious viticultural standards, whether organic, biodynamic, or sustainable, have long been the norm.
Was it just my imagination or could we taste the sea wind, the morning fogs and mountain air in the wines? Probably imagination. But either way, the wines were fresh, balanced, elegant and delicious...."

Vineyards in Salinas Valley Unaffected by Soberanes Fire
August 4, 2016, Salinas Valley, CA -- As the proprietor of Monterey Pacific Inc., Steve McIntyre farms more than 12,000 acres of vineyards in Monterey County -- roughly 20% of the region's total acreage. In the Santa Lucia Highlands, Steve has personally farmed or planted more than 25% of the entire AVA. Steve also owns and operates McIntyre Vineyards, one of the California's top producers of Chardonnay and Pinot Noir. As a prominent member of the county's winegrowing and agricultural communities, Steve has been closely monitoring the developments with the Soberanes Fire near Big Sur.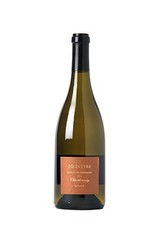 "I am saddened that so much property has been destroyed and so many people have been displaced by the fire. We are doing everything we can to help the community. Fortunately, from a viticultural standpoint, the majority of the smoke is currently headed to the southeast or out to sea thanks to the prevailing winds above 3000 feet. In the Salinas Valley, where we do most of our farming, the same dynamics that create our windy/foggy conditions have also created a protective inversion layer that keeps the smoke isolated well above ground. On top of that, our strong afternoon winds cleanse our air of residual smoke that has made its way into our region. Hopefully, the fire will burn out soon and we can enjoy what looks to be a successful growing season."
To help with the cost of the firefighting and rebuilding efforts, McIntyre Vineyards will donate 30% of the sales revenues from our 2013 Estate Chardonnay to the Monterey Community Foundation and the Coast Property Owners Association. This wine comes from our estate vineyard in the Santa Lucia Highlands and has earned high scores from the media including 91 points from the Wine Enthusiast. It retails for $36 a bottle.

Below is a press release from our Santa Lucia Highlands Association president Dave Muret:
"Winemaker Tom Stutz has, for several vintages now, used grapes from the McIntyre Vineyard in the S.L.H. for a top flight Blanc de Noirs under the La Rochelle brand - going forward, the wines will come under the "La Vie" label. Tom anticipates getting Pinot Noir from McIntyre's Block 4 on Saturday or Monday. "Forty-four year old vines; quality looks great, although bunch counts are light. Should be another typically good year in the S.L.H.," comments Mr. Stutz. Winegrower Steve McIntyre also uses the vineyard to supply fruit for his own label's "l'Homme Qui Ris" release.
The majority of Santa Lucia Highlands vineyards and producers will begin picking Pinot Noir in early September for their still wines. S.L.H. winegrowers polled agreed that while it looks like another "light year" in terms of crop loads, they are very happy with the slowly developing ripeness and maturation of flavors and expect "a very high quality harvest" across the appellation.

The Santa Lucia Highlands is one of the crown jewels of California viticulture, growing and producing some of the state's best cool climate Pinot Noir, Chardonnay, and Syrah. The appellation encompasses more than 6,500 acres of prime vineyards, planted on the elevated terraces and alluvial fans of the Santa Lucia mountain range. The area's unique character was recognized with official A.V.A. status in 1991; 2016 marks the twenty-fifth anniversary of the S.L.H.'s designation.
Formed in 2005, the Santa Lucia Highlands Wine Artisans is an association of vineyards and wineries that grow grapes here or use this region's fruit to craft their wines. The group's online home is SantaLuciaHighlands.com"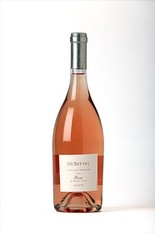 "It's been hot, hot, hot, people. Humid, too. And the nights offer no respite. In other words, it's the season of patio pounders.
What constitutes a patio pounder? It's a category that's easy to define on the most general level: an uncomplicated but well-made wine, usually consumed chilled. It's light and refreshing on the palate and has a low enough alcohol content that you can drink a few glasses without getting giggly. Monster zinfandels, butter-bomb chardonnays and brawny Napa cabernets need not apply. They'll all be welcome back when things cool down.
McIntyre Vineyards Santa Lucia Highlands 2014 Rosé of Pinot Noir, McIntyre Estate Vineyard ($17): A surprisingly aromatic and flavorful rosé. Winery notes: "This wine's natural, vibrant copper color foreshadows the stunning aromas of fresh berry, watermelon, rhubarb, black cherry pie and currants. While the bouquet is open and forthright, the texture is a bit more mysterious. One moment it is dry, crisp and refreshing; the next it is bold, plush and opulent."

By Mary Orlin, morlin@bayareanewsgroup.com
POSTED: 05/11/2016 10:00:00 AM PDT
Carmel is a wine mecca along California's central coast. The quaint seaside village attracts artists, dog lovers, and wine fans to its dozen or so tasting rooms. Further inland, Carmel Valley Village boasts wine tasting rooms, shops and restaurants. And in between, you can sample wine at The Crossroads Carmel shopping center.
Wine tasting at a mall? Indeed. Three wine tasting rooms, each with a different vibe, are tucked among local art galleries and clothing boutiques. So park the car for the afternoon, sip some fantastic Monterey County wine, and refuel with fish tacos.
MCINTYRE TASTING STUDIO
The vibe: Start your explorations at winemaker Steve McIntyre's showcase for chardonnay and pinot noir. McIntyre manages 11,000 vineyard acres in Monterey County, including his own 60-acre Santa Lucia Highlands vineyard.
A stone wall behind the tasting bar evokes a wine cave. Chat about winemaking with tasting room manager Kristen McIntyre -- Steve's daughter. Take a peek at the photos of the family's Bernese Mountain Dogs, too. The pups are named for famous wines.
Enjoy Wine by Time happy hour from 3-5:30 p.m. on Tuesdays and Thursdays, when glasses are priced at the time you walk in. Arrive at 3:10 p.m. and that glass of pinot costs $3.10. The sips: The crisp McIntyre Vineyards 2014 Rosé of Pinot Noir ($22) has juicy strawberry and watermelon notes. The complex 2014 Estate Pinot Noir ($42) has earthy and subtle smoke aromas, with rich plum and tart cranberry fruit.Details: Tasting fee $10-$12. Open 11 a.m.-6 p.m. Tuesday-Sunday at 169 Crossroads Blvd., Carmel; www.mcintyrevineyards.com.
-- Mary Orlin, Staff
Don't miss
Pick up a complimentary 93923 Wines passport at McIntyre, Southern Latitudes or Morgan. Get a stamp at each of the three Crossroads Carmel tasting rooms, plus one a few miles down the road, and you'll be entered to win a basket of wine. You don't have to collect all four stamps on one visit; passports do not expire. www.93923wines.com
Read the whole article here

Statement:
McIntyre Vineyards is dedicated to sustainability and shows that commitment through SIP Certification. Our 2012 and 2013 Pinot Noir SLH wines were mistakenly mislabeled with the SIP Certified seal, because they did not contain enough SIP Certified wine. Therefore these wines do not meet the requirement of having 85% SIP Certified fruit to use the seal on the label. Sustainability is very important to us and we continue to farm sustainability. Our sincere apologizes for the mix up. If you have a mislabeled wine, we will gladly offer 10% off your next wine purchase.

MCINTYRE VINEYARDS
WEDNESDAY, 02 SEPTEMBER 2015 08:12 JOSIE COWDEN FOOD & DRINK - WINE REVIEWS
I recently met up with three friends for dinner at Sanderlingsat Seascape Beach Resort. We chose to eat outside so we could watch the sun set over the ocean, but the Aptos fog rolled in and swallowed it up.
All was well when our server opened a bottle of McIntyre Vineyards Chardonnay ($30 in the restaurant). A beautiful, well-structured Chardonnay such as this really added flavor to our evening and harmonized perfectly with the array of fish dishes we selected—and I recommend it as a fail-proof choice the next time you dine at Sanderlings.
Fruit for this wine was grown on the 80-acre McIntyre Estate Vineyard, in the well-known Santa Lucia Highlands AVA, where Chardonnays are prized for their intensity, complexity and balance. This wine has aged well for a 2009 release. McIntyre Vineyards has since released Chardonnays made in other years, the latest being 2013, and now available to try at their tasting room, in Carmel's Crossroads Shopping Center.
Made by experienced winemaker Steve McIntyre, whose wines have garnered accolades far and wide over the years, and who I was happy to meet pouring several wines at Big Sur Food & Wine Festival some time ago—all of them impressive.
Known for his sustainable winegrowing in the Santa Lucia Highlands, McIntyre also makes wine organically and biodynamically for many other wineries.
As the ocean fog swirled around and thickened, sitting outside became almost surreal—and noticeably quiet, as, approaching 10 o'clock, most of the diners had already gone home. The silence was a pleasant change, and the loveliest dining experience I have had for some time.
McIntyre Vineyards, 169 Crossroads Shopping Center, Carmel, 626-6268. Mcintyrevineyards.com

Thank you to Josh Raynolds of Vinous for the most recent review of our signature tasting line up. Visit the Tasting Studio in the Carmel Crossroads to taste what he has awarded.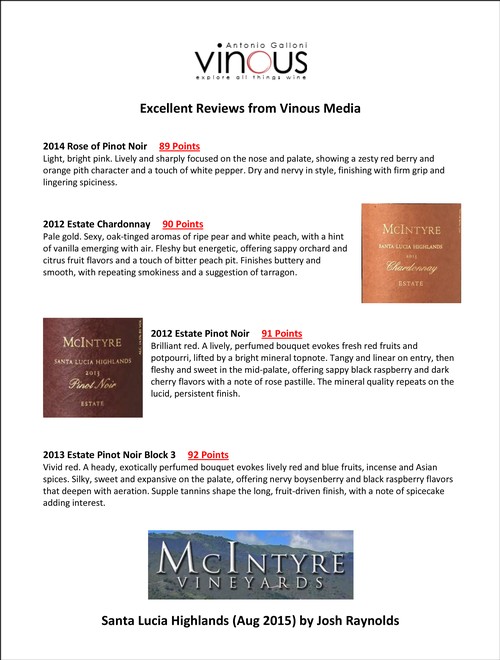 McIntyre Vineyards
The McIntyre Estate Vineyard lies in the "sweet spot" of Monterey County's Santa Lucia Highlands AVA, a 12-mile stretch of east-facing benchland renowned for producing wines with great character and complexity. Originally planted in 1973, the 80-acre site boasts some of the Highlands' oldest Pinot Noir and Chardonnay vines. Since purchasing the property in 1987, the McIntyre family has viticulturally upgraded the entire site.
Today, McIntyre Vineyards produces estate, vineyard designated, and block designated wines from their estate and neighboring vineyards in the Santa Lucia Highlands and Arroyo Seco Avas. They produce several distinct pinot noirs, chardonnays and a merlot, sparkling wine and a rose.
With degrees in viticulture and enology, Steve McIntyre is that rare combination of winegrower and winemaker. With a history in SLH that stretches nearly four decades, Steve has a unique perspective on the terroir and wines of this great appellation. In 1987, following many years as winemaker at Smith & Hook, a neighboring winery in the Highlands, he purchased the adjacent 80-acre vineyard parcel that would eventually become McIntyre Vineyards.
2013 Santa Lucia Highlands Pinot Noir $34
Vintage: 2013
Varietal: Pinot Noir
Appellation: Santa Lucia Highlands
Harvest Date: September 2013
Aging: Oak Barrel
Bottling Date: August 2014

Winelines Online - winelinesonline.com
MARCH 15, 2015 by gfrederiks
Although this is a young wine, all the flavors and aromas have already melded together in harmony. It's a full-throttle California Chardonnay, exhibiting rich nose impressions of smoke, toast, spice and butter, all wrapped around light scents of nectarine, sweet lime, and tropical fruit. Despite its bigness, this white shows a refinement more associated with Old World Burgundies. It is delicious on its own, but would also be a marvelous foil for a seafood pasta with Alfredo sauce.
MSRP: $36 (March 2015)
Wine Lines rating: 92
March 15, 2015 by gfrederiks
The Santa Lucia Highlands appellation, on the east-facing side of the mountain range in Monterey County, has developed a reputation for being a world-class region for Burgundian varietals. This wine is a translucent dark coral/ruby color, hinting at the concentration and extraction in this bottling. Fresh berry scents are upfront in the nose, leading to darker cherry cola and chocolate impressions, followed by a kiss of clove. It is light, boisterous, and juicy in the mouth, showing an elegant, silky texture. At the end, some earthy, youthful grip pops up.
MSRP: $42 (March 2015)
Wine Lines rating: 90