News, Articles & Blog

When the heat of the day transitions into a chilly night, we know that fall is here. And, for many, when the weather changes, so do our choices in wine and food. That crisp, mineral driven white wine that was perfect by the lake suddenly isn't as satisfying while sitting next to the warmth of a backyard bonfire. The almost translucent rosé that paired so well with a fresh seafood salad enjoyed alfresco doesn't taste as luscious with those spicy ribs falling off the bone at the tailgate barbecue (as you're huddled under a blanket).
McIntyre Vineyards
Located in Monterey County's Santa Lucia Highlands AVA, McIntyre Estate Vineyard lies along a 12 mile stretch of benchland that produces wines of character and complexity. Planted in 1972, the 80-acre site of which 60 acres are under vine, offers some of the area's oldest Pinot Noir and Chardonnay vines. Proprietor Steve McIntyre, who also owns and operates Monterey Pacific, notes that the McIntyre Estate Vineyard was among the first properties in the Santa Lucia Highlands to be SIP (Sustainability in Practice) Certified.
McIntyre 2016 Chardonnay ($28) will satisfy every Chardonnay lover's palate. Intense aromas of juicy citrus, yellow flowers, and stone fruit paved the way to flavors of lemon, citrus, baked apple, tropical fruit, and bananas. Thanks to a round mouthfeel, vibrant acidity, and juicy finish, pair this wine with roast chicken and fingerling potatoes for Sunday supper.
McIntyre 2016 Estate Vineyard Chardonnay ($38) is sophistication in a bottle. Creamy on both the nose and palate, structure, complexity, and minerality were obvious with each sip. I discovered notes of oak and vanilla, almonds and warm apple pie, lemon and stone fruit as I appreciated the brilliant acidity and lingering finish. Pair this wine with homemade crabcakes, spinach salad with warm bacon dressing, and candlelight.

You may be thinking apropos the title of this post, "F.K., why didn't you just say '12 California Chardonnays'? Why add 'I liked'"? Because, Dear Reader, I don't like many chardonnays made in California, so when I come across a dozen that I can write about together, I want to emphasize that fact. The reason, as you probably know from having been a devoted reader of this blog — bless your little pointy heads! — is that so many chardonnays from The Golden State are saturated with swamps of oak that I open even one with trepidation, and when I'm looking for an appropriate white wine to drink with dinner, I will open just about anything other than chardonnay. It's a real crap-shoot, this whole chardonnay business. The wines reported on in this post age in French oak barrels for varying amounts of time and using various percentages of new barrels, but the important point is that all 12 achieve a state of balance among all elements, sometimes pushing the boundaries, it's true, but sometimes that bold, risky factor adds a frisson of appreciation. Other selections here are more elegant and restrained. Today we range from Santa Barbara County in the south to Mendocino County in the north. Vintages represented are 2014, '15 and '16, with the '14s really coming into a state of grace. These wines were samples for review, for which I thank the wineries and marketing people involved.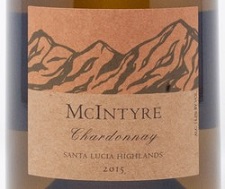 The pale straw-gold McIntyre Vineyard Chardonnay 2015, Santa Lucia Highlands, is a rich, bold chardonnay that ultimately displays itsbalance and integrity. A heady bouquet of lightly toasted pineapple and grapefruit offers notes of green apple and pear, cloves and allspice, camellia and lilac; it's a dense, vibrant and resonant chardonnay, obviously delivering a lot of personality, presence and flavor on the palate but restrained by a dry, crystalline edge of flint and chalk minerality. The finish brings in hints of dusty graphite, smoke and a touch of woodsy spice. 14.2 percent alcohol. Steve McIntyre made 840 cases. Drink now through 2021 to '24. Excellent. About $28.
[Posted by Fredric Koeppel, Bigger Thank Your Head blogger, http://biggerthanyourhead.net/2018/06/04/12-california-chardonnays-i-liked/]

McINTYRE VINEYARDS, 2015 CHARDONNAY SANTA LUCIA HIGHLANDS, $240 ($30) ★ ★ ★ ★
McINTYRE VINEYARDS, 2014 CHARDONNAY McINTYRE ESTATE VINEYARD, $320 ($40) ★ ★ ★ ★ +
Two excellent Chardonnays. The SLH bottling is full bodied, very supple in texture, ripely flavored, and lightly oaked; a wine that is well balanced and medium long on the finish. In aroma/flavor, it tastes of pear, apple, white peach, vanilla, and toast. Fine value. 840 cases. 14.2% F The Estate Vineyard is a richer wine: fleshy in texture, full bodied, and intensely fruity (pear, white peach, apple, pineapple, lemon), it has modest oak character (vanilla, toast), good balance, and a very long finish. A luscious wine. Excellent value. 240 cases. 14.2% [2018-2020]
McINTYRE VINEYARDS, 2016 ROSE OF PINOT NOIR, SANTA LUCIA HIGHLANDS, $208 ($26) ★ ★ ★+
Light salmon pink color. An intensely flavored, crisp rose that is round, balanced, and long on the finish, tasting of plum, peach, and lemon. Very good value. 340 cases. 13.1% [2018-2019]
McINTYRE VINEYARDS, 2014 KIMBERLY VINEYARDS, ARROYO SECO, $224 ($28) ★ ★ ★ ★
A supple, full bodied Merlot of excellent quality. It is quite rich in flavor (blueberry, cherry, cassis, cedar, spicy oak), balanced, and long on the finish. Will develop with further aging. 14.5% [2019-2023]
McINTYRE VINEYARDS, 2015 PINOT NOIR SANTA LUCIA HIGHLANDS, $320 ($40) ★ ★ ★ ★
A full bodied, intensely flavored Pinot Noir that has good depth, light tannin, and a very long, firm finish, tasting of blueberry jam, strawberry, rose petal, pepper, dried fig, herbs, vanilla, and oak. Can be aged further. 540 cases. 14.3% [2019-2022]
McINTYRE VINEYARDS 2015 PINOT NOIR McCINTYRE ESTATE VINEYARD, $192/6 ($48) ★ ★ ★ ★
McINTYRE VINEYARDS 2013 PINOT NOIR OLD VINE, ESTATE, $280/6 ($70) ★ ★ ★ ★+
Two excellent Pinot Noirs. The 2015 Estate Pinot is a supple, full bodied, medium rich wine that is well balanced, mildly tannic, and long on the finish. It has complex aromas/flavors (plum, strawberry, cherry, red currant, black tea, spicy oak), and warrants at least 3 more years of aging. 368 cases. 14.1% F The 2013 Old Vine is fleshy in texture, full bodied, and concentrated; a Pinot Noir with excellent depth and balance, and a very long, lightly tannic finish. In tastes of plum, blueberry jam, strawberry, black tea, cedar, and oak. Will develop further. From 40+ year old vines. 76 cases. 14.4% [2019-2022]

By Gina Birch (USA Today & News Press.com)
"Last Friday was National Pinot Noir Day. All day and into the weekend I was teased and delighted by photos on social media of the delicious pinots friends and strangers were celebrating with.
Pinot noir is one of the most versatile food wines thanks to its acidity, fruit and medium to low tannins. Characteristic flavors include cranberry, cherry, raspberry, vanilla, mushroom, cola and wet earth, among others.
When considering these attributes it's easy to see how it could pair so well with such a wide variety of foods: salmon, duck, mushroom sauce, risotto, roasted vegetables, Gruyere cheese. At a table full of people with entrée choices spanning a wide range, pinot noir can make almost everyone happy.
A temperamental grape with thin skin, growers and wine makers often refer to it as the heartbreak grape. As with most things in life, not all pinot noirs are created equally, especially considering where the grapes are grown and who is making the wine.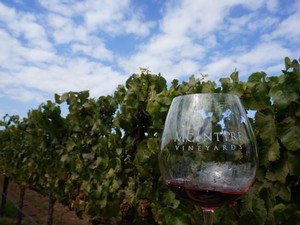 And unfortunately in most cases with this wine, you almost always get what you pay for.
Burgundy is the mother ship when it comes to pinot noir. It's the only red wine produced in this region of France. It's also the origin of almost all of the pinot vines planted in the U.S.
You may have tasted wines from other parts of the world and heard them described as Burgundian in style. Pinots from Burgundy tend to smell both earthy and floral, like violets. They have fresh red fruits, minerals, and most of all balance. Burgundies are considered graceful and they get more so the longer they're in the glass.
Oregon is on the same parallel as Burgundy, and Willamette Valley is one of the most highly regarded areas in the U.S. when it comes to pinot noir.
The wines produced here are typically light in color, tart, earthy and delicate in structure.
California pinots are darker and more fruit forward with dark fruits and vanilla. The state's growing conditions are warmer and drier than Willamette and Burgundy. For some of the best pinots in California look to Sonoma and the Santa Lucia Highlands in Monterey County. The areas get the cool air and fog that make these particular grapes happy.
For red wine lovers stifled by the Southwest Florida heat, pinot noir is perfect year round and even better with a little chill on it; a 65-degree range will do.
McIntyre Estate Pinot Noir, 2014 ($45)
From the Santa Lucia Highlands is a small production wine that has a mouthwatering blend of plum, blackberry and cherry, with lovely lingering spices on the finish."

Steve McIntyre (viticulturist, founder of McIntyre Vineyards) has extensive experience in California's Central Coast. As owner of Monterey Pacific, his team farms 12,000 acres in Monterey County, and he has planted or farmed nearly a quarter of the vines in the Santa Lucia Highlands AVA.
In 1987, Steve purchased an 80-acre site first planted in 1973-acre. This McIntyre Estate Vineyard is the source of some impressive Chardonnay and Pinot Noir, and Steve also bottles a larger appellation blend Chardonnay, an old vine rosé, and a Merlot sourced from Arroyo Seco, among others.
This was my first time tasting McIntyre Vineyards' wine, and I found them delicious, vibrant, showing a tasty mix of rich fruit without being too overt or emblazoned with new oak. They seem like solid examples of the high quality Chardonnay and Pinot that always excites me about the Santa Lucia Highlands AVA.
These wines were received as trade samples and tasted sighted.
2014 McIntyre Vineyards Chardonnay - California, Central Coast, Santa Lucia Highlands
SRP: $28
Medium gold. Aromas of buttercream, rich yellow apple, quince paste, salted almonds and biscuits. Full and round, creamy but moderate acidity, yellow apples and baked pears with hints of limes. Graham crackers, almond, sea salt, honeybutter, lots of deliciousness but it stays vibrant and none of the flavors are too overt. (88 points IJB)
2014 McIntyre Vineyards Chardonnay Estate- California, Central Coast, Santa Lucia Highlands
SRP: $38
Medium gold color. Nose shows bruised apples, pear nectar, along with white and yellow flowers, sea salt and crushed chalk. Rich and creamy with moderating acidity, the honeyed apple and baked pear fruit is mixed nicely with bright yellow floral notes, along with almond butter, graham cracker, hints of sea salt and chalk. Bold but balanced, and straight delicious, a little more verve and chalky notes than the non-estate Chardonnay. (89 points IJB)
2016 McIntyre Vineyards Estate Rosé of Pinot Noir- California, Central Coast, Santa Lucia Highlands
SRP: $24
Pale copper color. Smells of strawberries, watermelon, chalk dust, lemon zinger tea. Pleasantly plump on the palate but bright acidity. Crisp, chilled strawberry, cranberry and wild raspberry fruit, laced with complex notes of lemon verbena, mint, honeycomb, wild flowers and chalk dust. Delicious, complex, long finish. Impressive depth and complexity on this Pinot rosé. From a 45-year-old, own-rooted vineyard, this is a serious rosé that leaps out of the glass. (88 points IJB)
2014 McIntyre Vineyards Pinot Noir- California, Central Coast, Santa Lucia Highlands
SRP: $45
Bright ruby color. Aromas show a nice mix of tart red cherries and rich black cherries along with rhubarb pie, roses, clove and tobacco. Medium/full-bodied, velvety tannins, vibrant acidity. Saucy but tangy fruit (black cherry, raspberry, some strawberry jam), with clove, cinnamon, cedar, violets, all woven in well. Lovely stuff, this could soften for a few years but no guilt about drinking it right now. (90 points IJB)
2013 McIntyre Vineyards Merlot Kimberly Vineyard- California, Central Coast, Arroyo Seco
SRP: $25
Deep ruby/light purple color. Pretty aromatic display of red currants, deep black cherries, violets, sweet pipe tobacco, cola. Full-bodied, velvety tannins, moderating acidity, doused in black cherries, black currant and raspberry jams. Violet petals, loamy soil, soy and mushroom, charred herbs, vanilla, savory spices, all of these add complexity and serious deliciousness to this Merlot. At least five years (likely more) of development, but delicious now, too. (90 points IJB)

Steve McIntyre and his team at Monterey Pacific, Inc., manage more than 12,000 acres of vineyard in Monterey County. Thanks to his diverse roster of clients, McIntyre is well-versed in biodynamic, organic, sustainable and conventional approaches to farming and prides himself on adopting the best ideas from each. Now in its 25th year, Monterey Pacific recently received the 2017 California Green Medal Business Award.

Has your understanding of sustainability evolved over time?
I was one of the founders of the Central Coast Vineyard Team, and when we got together in 1994, we had no idea what sustainability was or what it would become. Ours was basically a "best practices" forum that morphed into a self-correcting grower workbook. It's not a competition among growers; it's a competition with yourself. You are basically trying to improve your efficiency while considering the unintended consequences of your decisions. For instance, it feels really good to buy a Prius that gets a zillion miles per gallon, but what about the battery? There's often a lot more to these decisions than meets the eye.

You're a fan of deficit irrigation. What does that entail and how much water does it save?
With red grape varietals, it saves maybe 30 to 40 percent compared to the water you would normally apply. With white varieties, maybe 20 to 30 percent. And it improves wine quality. When you hold water back, the vine goes into survival mode and concentrates on the progeny—the seeds and fruit—rather than the vegetative growth. It's trying to make that fruit more attractive to mammals, so the flavors increase and the skin becomes more palatable, which translates into wine quality.
You've been using biochar in your vineyards for the past few years. What is biochar and what benefits are you seeing?
It's like compost on steroids. It works really well in sandy soils to boost organic matter. Basically, it's charcoal, a super carbon source, and an extremely efficient way to utilize material like old orchards that are taken down. Every ton of biochar can replace five tons or more of compost, so you have lower trucking costs and lower energy usage. It's expensive now, but we hope it won't be in the future.

You're a believer in permanent cover crops. Don't they compete with the vine for water and nutrients?
Originally, we did it for erosion control, but the benefits are numerous. The roots prevent compaction and they provide a home for mycorrhizal fungi and bacteria. They're a trap crop for beneficial insects, and they provide wind protection for young vines. On the Central Coast, our native cover crops are drought tolerant and daylight obligate. That means their seeds will not germinate until the days are shorter. If we let our cover crop go to seed, it stops using water until that seed germinates. So there's no competition.

You've been converting your fleet to EcoDiesel. What is it and does it make business sense?
EcoDiesel is diesel fuel combined with waste products like cooking oil from restaurants. We can't use it on all our fleet because we can't get enough. It does cost more, but if the market takes off, it would be good for the environment. It would definitely stretch our oil supplies in this country.

You've been working on an incentive program for employee wellness. How's that going?
We had a health fair and pre-screened some employees, voluntarily, and we found cases of terribly high blood sugar and blood pressure. The nurses told us that a few people needed to go to the doctor immediately. So we decided to provide individual screening for all of our employees. Nurses came to our site, and we had an 85 percent participation rate. Now we are trying to come up with rewards for bringing blood sugar down or losing weight—whatever your personal goal might be—but that penalizes people who already take care of themselves. We haven't solved this dilemma.

You provide $1,000 scholarships to the children of employees who want to attend college. How do you justify this expense?
We award four to six a year and we have done it for 10 years. It just feels right. But I have an ulterior motive. We're in the boonies, and it's tough to hire people for administrative positions. So this is an investment in our future workforce.

All these benefits—you must have low turnover.
We have maybe two voluntary quits a year out of 200 employees. I've learned that retention is not so much about wages. It's about communication. I have an open-door policy. People know they can come bug me at any time, and I try to be a good listener.

Are sustainable practices easier or harder at your size?
Size has nothing to do with it. Sustainability is about metrics, being able to measure progress, like fuel savings or efficiency. Everybody can do it.

By MARY ORLIN | morlin@bayareanewsgroup.com | Bay Area News Group
PUBLISHED: June 10, 2017 at 10:00 am | UPDATED: June 11, 2017 at 12:51 pm
"When the temperature rises, cool off with pink wine.
For years, pink wine got little respect. Now, rosé is everywhere. What California winery isn't making it? Just look at social media, awash in pink spirits and the #summerwater hashtag. We sought out California's best #summerwaters, from the palest coppery hues to deep rose-petal pink drinks, priced from $15 to $29. After sampling dozens of bottles, here's the top 20 — every one of them offering dry, crisp, splendid sips.
2016 McIntyre Rosé of Pinot Noir, Santa Lucia Highlands ($24): This graceful, eye-catching bottle holds wine sourced from McIntyre's sustainably farmed estate vineyard, which holds SIP certification."

By PAUL HODGINS | phodgins@scng.com | Orange County Register
PUBLISHED: June 23, 2017 at 1:02 pm | UPDATED: June 23, 2017 at 1:27 pm
"Summer is officially here, but please, put down the Rombauer Chardonnay. Our fair state produces a tempting and richly varied cornucopia of wines that are best enjoyed during balmy weather, and if you're a true fan of the state's wine industry you owe it to yourself to try a few that are less familiar and, at times, more adventurous.
Here are some trends I have noticed among California's summer wines:
McIntyre Vineyards 2016 Rosé of Pinot Noir ($24): From the Santa Lucia Highlands, one of California's premiere regions for pinot noir, this lightly colored rosé is a tad less than bone dry and carries notes of white peaches, orange blossom and sandalwood. It's well made for the price: single vineyard, single block, 45-year-old vines."

Tired of spending a lot on Pinot Noir? Tom Hyland offers some handy money-saving tips.
Posted Monday, 09-Jan-2017
One of the truisms in the wine business is that if you want a notable Pinot Noir, you're going to have to pay a fair amount for it. It could be the proverbial arm and a leg for a Grand Cru Burgundy or it might be "only" $75 for a limited release from Oregon or California, but the fact remains that these wines are dearly priced.
But that doesn't mean you have to give up hope on finding value Pinot Noirs. As more countries plant the grape in their cooler regions, there are more alternatives available for lovers of this grape. These wines might not challenge the most renowned Burgundies for complexity and longevity, but there are numerous examples of very good to excellent Pinot Noirs out there, be they from New Zealand, Tasmania, California and yes, even France.
Monterey County has the cool weather and fog necessary for growing Pinot Noir, and there are numerous values; the 2013 Paraiso is an entry-level, drink-tonight Pinot Noir that is a crowd pleaser, while the McIntyre Santa Lucia Highlands offering has a bit more structure for cellaring; it is a delicious, very well made Pinot Noir from this underrated district.

New Year's Eve: Pop a cork on Bay Area bubbly
By MARY ORLIN | morlin@bayareanewsgroup.com
PUBLISHED: December 13, 2016 at 8:00 am | UPDATED: December 13, 2016 at 8:38 pm
When the clock strikes midnight on New Year's Eve, corks will be popping across the Bay Area. So instead of pouring pricey Champagne, or your go-to Napa or Sonoma sparkling wine, why not celebrate with local bubbly?
There's never been a better time to sip homegrown festive sparklers. At least 18 Bay Area and Monterey County wineries are producing more than two dozen bubblies these days at prices that range from $15 to $80. Whether you prefer your sparkling wine bone dry, slightly sweet or almond-tinged, there's an amazing array of local bubbles just right for toasting to a Happy New Year.
Here's a sampling of possibilities in a handy list ready to take to the wine store. Cheers!
Monterey County...
- McIntyre Vineyards: A clown's portrait graces this sparkler's label, done by Santa Barbara artist James Jarvaise's painting, "L'Homme Qui Ris," or the man who laughs. McIntyre's bubbly pinot noir ($36) will bring you joy and laughter, too, with its flavors of lime zest, lemon curd, baked apple and pear, its palate-cleansing acidity and flinty minerality. www.mcintyrevineyards.com"

3 families that shaped Monterey wine
By Mark C. Anderson November 24, 2016 Updated: November 24, 2016 11:00am
McIntyre Vineyards
When the California Association of Winegrape Growers named Steve McIntyre its Grower of the Year not long ago, he had a problem with it.
Which isn't like McIntyre. He's one of the most mild-mannered men to ever plant a vineyard.
Seems he wanted the name of his team on the plaque rather than his.
"I hoped it said 'Monterey Pacific' and not my name," he said then. But he's OK not getting what he wants. All he originally wanted was to be a professional musician. Instead he's become a pillar of Monterey County wine.
Back before wine clubs were popular or Pinot was a sought-after varietal, he helped Rich Smith and Nicky Hahn create the Santa Lucia Highlands appellation while at his winemaking post with Smith & Hook. A green-practices pioneer, he later became a founding member of the Central Coast Vineyard Team's Sustainability in Practice (SIP) program.
At the same time, his evolution as a winemaker mirrored that of Monterey County. For years the area grew just as many grapes as Napa but enjoyed a fraction of the reputation for winemaking.
McIntyre was meanwhile quietly cultivating Monterey Pacific, a vineyard management and development company, into the fifth-largest company of its kind in the United States. He and his team nurture more than 10,000 acres for popular labels like Bonny Doon, Biagio, J. Lohr and Trinchero.
While his clients loved his work, nobody had heard of Monterey Pacific — to this day it doesn't even have a Web address — which was fine with McIntyre.
"It flies under the radar," he says.
He brought his own eponymous label to market with his 2005 Pinot. Now, like Monterey County, McIntyre is getting his due for grapes and wine. Teaming with winemaker Byron Kosuge, he can draw from decades — and thousands of acres — of experience.
"It allows us to demonstrate what we do in the vineyard," he says.
It helps that he harvests from some of the Santa Lucia Highlands' oldest Pinot Noir and Chardonnay vines, originally planted by the McFarland family in 1973. His Pinots are dense and lively benchmarks for the varietal. Chardonnays like his 2014 Estate K1 Block bring complexity and richness. The sparkling l'Homme Qui Ris is delicate, elegant and powerful at the same time.
People like to speak highly of his character — and he does donate countless hours to 4-H — but he's also just a surprising character. He and his wife, Kimberly, are obsessed with Bernese mountain dogs, with six currently sharing their house. He's a licensed pilot. He likes to listen to Eminem while washing dishes — and compares the white rapper to his signature white wine.
"They both have an edginess, and are higher in acidity," he says.
Taste the wines: 11 a.m.-6 p.m. Tuesday-Sunday, Mondays by appointment, five wines for $12 waived with purchase of a bottle, 169 Crossroads Blvd., Carmel; (831) 626-6268, www.mcintyrevineyards.com